Update May 2018: We have updated the post according to the current status of WhatsApp and Telegram and everything that has changed since the original publication.
Messenger applications there are many, but unleash passions and move legions of fans and antifans, not many. The impact of any application varies by region, but globally the biggest ideological battle is clear: WhatsApp versus Telegram. You can see traces of it in almost any publication about one or the other.
Although a few years ago we would have dispatched such a confrontation with a "WhatsApp has more users and Telegram has more things", nowadays the line that separates both applications has faded even more. Last year Facebook stepped on the accelerator in the roadmap of news and Telegram is not willing to stay behind. Who's winning?
Users
Officially, WhatsApp has already surpassed the 1,500 million active users, surpassing its stepbrother, Facebook Messenger and the millions of WhatsApp have more merit, since Messenger shares the accounts with the popular social network of Zuckerberg.
Telegram, for its part, must settle for 180 million users, a figure eight times lower. The relevance of these data is relative. For example, QQ Messenger harvests 783 million users and WeChat 963, but most of them are in China. Of little they serve to him who has his circle of contacts in Albacete, but already knows that of "better to have it and not need it than to need it and not to have it".
A messaging application without active users does not serve much more than to talk to yourself, although in the end what matters to the user on foot is if they use it in their circle . We will focus on this comparison more in the technical aspect of the applications, but to ignore the greater market share of WhatsApp would be to deny the obvious. Minipunto for WhatsApp .
Text Chat
In the early days of Internet communication, there was text. 45 years later, text messages are still a fundamental part of how we communicate with the mobile, despite the continuous advances of other means such as (video) calls or images with Snapchat filters.
For years, one of the main advantages of WhatsApp with respect to the competition of the moment was that "what it does, it does it very well" and that it maintained the text… text, without falling into the temptation to introduce stickers, animated GIF or other elements that visually contaminate the conversation.
Then came Telegram, which we're not going to fool anyone, visually it was a brazen copy of WhatsApp. It worked almost the same and had an interface that was copied almost pixel by pixel from WhatsApp. The advantage of WhatsApp to be a simple communication application and to the point it faded: the new one also does it, and for free.
Today both applications have evolved and are no longer so similar: Telegram started with much more graphic content such as stickers, animated GIFs, video clips and all kinds of content from bots and WhatsApp has been cautiously implementing similar options throughout the weather. The animated GIFs arrived at last, although we are still waiting for the stickers.
Although WhatsApp was unfolded in WhatsApp Business at the beginning of the year, the normal application still has a certain aura of serious app that is trying to slowly get rid of GIF and stickers.
Both applications allow you to easily converse with your friends or groups, without really any highlight because it is much better than the other in this regard. Now, when it comes to chatting with your friends, all the additions and small details count, as we will see in the following sections. For now, as for talking with your friends, without any, nobody takes the point home. Tie.
Share with your friends
Life is not just sending plain text messages, and that's why both applications have a clip icon, the universal representative to attach or, in this case, send something. Let's start with a table comparing what each application can share, including the elements that are sent to the same conversation, such as stickers or emojis.
| | WHATSAPP | TELEGRAM |
| --- | --- | --- |
| PHOTOS AND VIDEOS FROM THE CAMERA | Yes | Yes |
| PHOTOS AND VIDEOS FROM THE GALLERY | Yes | Yes |
| MUSIC | Yes | Yes |
| FILES | Yes, any file | Yes, any file |
| CONTACTS | Yes | Yes |
| LOCATION | Yes, also in real time | Yes, also in real time |
| ADDITIONAL CONTENT FROM BOTS | Do not | Yes |
| STICKERS | Do not | Yes |
| EMOJIS | Yes | Yes |
| ANIMATED GIF | Yes | Yes |
| VOICE CLIPS | Yes | Yes |
| VIDEO CLIPS | Do not | Yes |
The previous table is more equal than ever because WhatsApp already lets you send any type of file and Telegram incorporated the location in real time. Even so, until WhatsApp includes its own stickers, Telegram continues to allow you to share more elements, which include stickers, files up to 1.5 GB in size, video clips and an endless amount of additional content powered by bots. Point for Telegram.
Calls and video calls
It cost WhatsApp a lot to incorporate the voice calls and even more the video calls and Telegram follows more or less the same way. The application has always focused on offering the best possible experience for text messaging (as stated in their frequently asked questions) but has finally been forced to include, for now, voice calls.
When not counting Telegram with video calls, it forces its users to use another application for this purpose, which is always dangerous. Almost all video call applications – except Duo – include messaging functions, so if the user is forced to choose only one, it will be more to them to opt for the all-in-one than to depend on two applications.
WhatsApp does not have that problem, because since it included the video calls it has closed the circle. There are still reasons to consider using other messaging applications, but not for lack of calls or video calls. Point for WhatsApp.
Privacy & Security
A few years ago the security of WhatsApp was little less than a joke, but things have changed a lot recently, specifically since he introduced point-to-point encryption in all conversations. The idea is simple: the messages are encrypted and deciphered in the mobile phones themselves, and not even intercepting them in the way or in the server can be read. WhatsApp bases its privacy on the well-known and acclaimed Signal protocol.
Telegram encrypts its conversations with its own protocol, MTProto and offers two different layers of security. The secret chats are encrypted from end to end, such as WhatsApp, while the rest are encrypted between the server and the client. Telegram details how it keeps the copies in the cloud and its keys separated and distributed throughout the world, so that several court orders are required to deliver data. The system seems to work, because Russia ended up blocking Telegram for not giving up the data (and it follows that the government could not obtain them).
The experts are not clear about which encryption system is more secure. The encryption of Telegram is reproached that the normal chats, which are not secret, are not encrypted end-to-end and that Telegram has not revealed all the details of its MTProto protocol, falling into the error of security by obfuscation.
WhatsApp managed to improve its image in terms of security when it activated the encryption for all and for everything, but there are some details that make the Electronic Frontier Foundation can not recommend its use: the backup is saved without encryption and the lack of information about what data WhatsApp shares with Facebook.
WhatsApp continues to base its contacts on phone numbers
Regarding privacy, both applications allow you to basically configure who can see your profile picture, last connection and, in the case of WhatsApp, states, but WhatsApp continues to base their contacts only on phone numbers. Without phone number, there is no WhatsApp, one of our most private data that we give to almost complete strangers just to be able to talk to them on WhatsApp. Telegram also uses accounts from phone numbers, but you can alternatively use user names.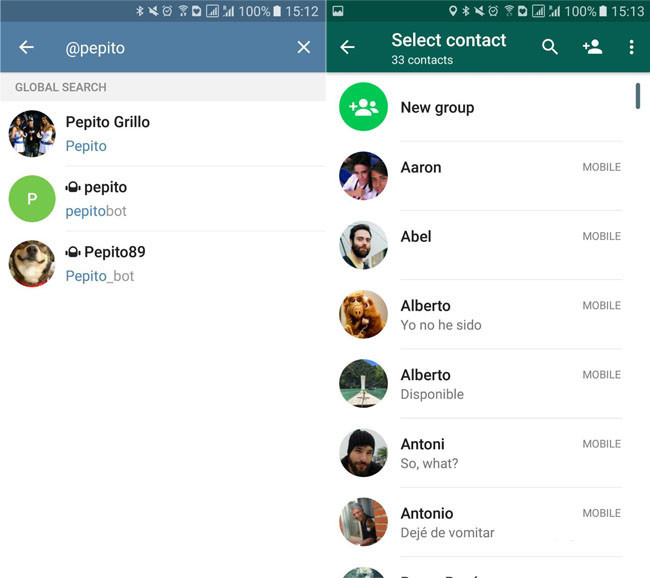 Beyond usernames, Telegram's privacy settings are more complete than WhatsApp's. In the latter you can only choose between Everyone, my contacts and anyone, while in Telegram you can tune a little more by adding a list of included and excluded, and that your contact list is sure to mix intimate friends with others not so much.
Another interesting section is that only Telegram allows you to protect your conversations through an access code. The most extreme encryption in an application is useless if someone picks up your unlocked phone in an oversight and reads everything. This is avoided in Telegram with PIN protection, which you must enter before viewing a chat. Point for Telegram.
Multi-platform operation
We live in a time in which we have more and more devices, and of more types. Ideally, you should be able to start a conversation on your mobile, continue it on the PC and end it from tablet, without having to start and close session. Here obviously, Telegram starts with an advantage, since it is a service based on the cloud, instead of client-server-client.
WhatsApp officially only works on a single device at the same time, although it can "relay" messages to your web and Desktop client, for Windows and Mac. The result is similar to that of a native client, but not the same: you need to have the mobile loaded and connected to the network to use it. There is no official WhatsApp client for tablets or iPads, although there are countless workarounds to use it in one way or another.
The official Telegram customer is something else quite different. It is a native application, really, that is updated quickly enough to maintain compatibility with most improvements that are introduced. While the desktop WhatsApp client is nothing more than a decaffeinated version of its mobile version, the Telegram client is one of the best, if not the best, PC messaging client.
As for compatibility with platforms, sticking to official or pseudo-official customers, it would be as shown in the following table. Remember, though, that although WhatsApp has an application for almost all mobile platforms, you can only log in one at a time.
| | TELEGRAM | WHATSAPP |
| --- | --- | --- |
| ANDROID | Yes | Yes |
| IOS | Yes | Yes |
| WINDOWS PHONE | Yes | Yes |
| FIREFOX OS | Yes | Do not |
| BLACKBERRY OS | Do not | Yes |
| SYMBIAN / S40 | Do not | Yes |
| WINDOWS | Yes | Yes, synchronized |
| WEB | Yes | Yes, synchronized |
| MAC | Yes | Yes, synchronized |
| LINUX | Yes | Do not |
If your technological life revolves around a device, then you probably do not notice much difference between one or the other. Now, as soon as you start adding more devices to the mix, the technological advantage of being based on the cloud becomes evident. Telegram is much more agile and practical in multi-device and multi-platform conversations, and therefore this point is taken. Point for Telegram.
Personalization
We finish our face to face by comparing one of the most characteristic aspects of Android: personalization. That is, the possibility of modifying the application to suit your tastes and preferences.
WhatsApp has an additional application, WhatsApp Wallpapers, to add a few additional screen backgrounds to conversations, although it has not been updated for seven years. Yes, seven. More recently he added the solid colors to the mix, but apart from this there is not much else you can change in his appearance.
Telegram takes the idea of ​​the funds for conversations and complements it with the recent topics, with an editor included. Although the changes are limited to colors, you can change the color of virtually anything that appears on the screen. If you want, you can dress Telegram of WhatsApp. In the sound section, both applications allow you to configure personalized notifications for different contacts or groups, which is appreciated.
In a section in which it is noted that WhatsApp is an "old dog" is in the support for widgets. Probably the widgets do not go through their moment of greater popularity at the moment, but it is still one of the most beloved Android features. Telegram does not have widgets, although it can create shortcuts to conversations, which is the same as the widget of the same WhatsApp purpose.
The balance is more or less balanced, but as soon as stickers and emojis are taken into account, it definitely decides in favor of Telegram. In WhatsApp you are restricted by the emojis and animated GIFs that you find with your search engine, but Telegram allows you to select and collect your favorite stickers, which are part of the personalization at the end of the day. Point for Telegram.
Final result and comparative table
We have reached the end of this battle and the time has come to make a recount. In case you do not want to go back in the text to remember the points, here you have them again:
| | WHATSAPP | TELEGRAM |
| --- | --- | --- |
| USERS | 1 | |
| TEXT CHAT | 1 | 1 |
| SHARE | | 1 |
| CALLS | 1 | |
| PRIVACY & SECURITY | | 1 |
| MULTI PLATFORM | | 1 |
| PERSONALIZATION | | 1 |
| TOTAL | 3 | 5 |
On paper, Telegram takes the first place in our comparison, even though it does not have a function for some basic in these times such as video calls. What it loses out there it recovers with a better functioning in several devices, better desktop clients and more personalization and privacy options.
Yes, Telegram has fewer users than WhatsApp and that will always be something to consider. The above data are not absolute, but depend on how important they are in your specific case. For example, if you only use a single device to chat and you do not care much about personalization, both applications would be in a 3-3 technical tie by discounting personalization and cross-platform points.
Telegram is superior, but less than years ago
From the technical point of view, Telegram is better than WhatsApp. However, although Telegram has not rested on its laurels, with constant updates and improvements, the awakening of the developers of WhatsApp has achieved that the distance between applications has been shortened. Telegram is better than WhatsApp, but it is "less better" than a few years ago.
It remains to see what else WhatsApp has in hand to achieve cling to those billions of users, and is that the letter to be the most popular application can not be used indefinitely. At the moment, there does not seem to be much intention to move its architecture to the cloud, so in multi-device capabilities Telegram will continue to have an advantage. This is the comparative table with the main characteristics of both applications.
| | WHATSAPP | TELEGRAM |
| --- | --- | --- |
| ARCHITECTURE | Connection via servers, a single device | Based on the cloud, several devices |
| PLATFORMS | Android, iOS, BlackBerry, Nokia, Web, Windows, Mac | Android, iOS, Firefox OS, Web, Windows, Mac, Linux |
| ENCRYPTION | End to end based on Signal, used in all communications | MTProto, end-to-end in secret chat, server-client in the rest. |
| SHIPMENTS | Photos, video, music, location, contacts and documents, voice clips. | Photos, video, music, location, voice clips, video clips, contacts and any file up to 1.5 GB. |
| GROUP CHATS | Up to 256 people | 200 in normal groups, 100,000 in supergroups |
| BOTS | Not yet widespread | Yes |
| STICKERS | Not yet | Yes |
| VIDEO CALLS | Yes | Do not |
| CALLS | Yes | Yes |
| WIDGETS | Yes | No, only access to conversations |
| THEMES | Do not | Yes |
| ADD CONTACTS | Automatically from the phone contacts | Possible to add from the username |
| USE OF STORAGE | Not configurable | You can limit the download and clear cache from the application itself |
| BACKUP | In Google Drive | Not necessary |
| SNAPCHAT STORIES | Yes | Do not |