Now that Google Assistant is available for any smartphone with at least Android Marshmallow, more people can enjoy their ability to help optimize the tasks of everyday life. You can interact with Google's intelligent personal assistant in a conversational style much more natural than with the commands set to use. These tips and tricks will help you start using Google Assistant, making the most of the new assistant.
Getting started with Google Assistant
Set up Google Assistant for the first time
If you have never used Google Assistant before, do not worry: despite its complex capabilities, it is easy to configure. Your phone to run any version of Android from Marshmallow (6.0) onwards, press the start button for a long time to open Google Assistant (or say "Ok Google" if voice activation is ready).
Start Google Assistant by pressing the start button for a long time.
The "Meet Google Assistant" screen will appear the first time, click on "Continue".
Give him permission to access the information he needs to work, by clicking "Accept".
Teach him to recognize your voice by pressing "Start."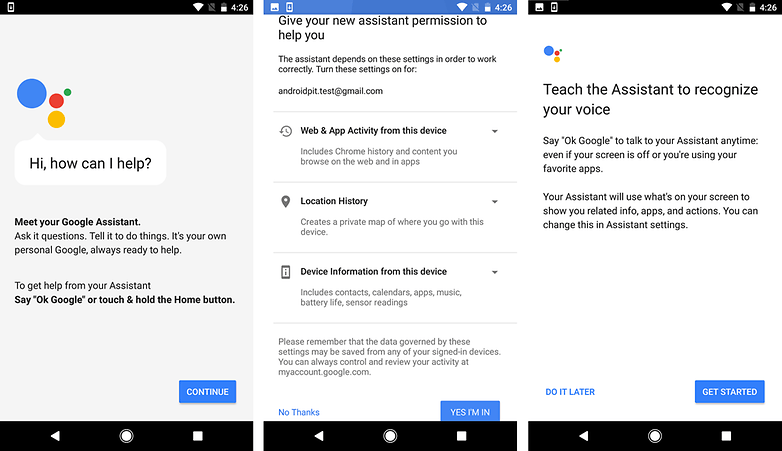 Customizing Google Assistant
Select your Google account: the first thing to do is make sure that you have selected your main Google account, if you have more than one. Start Google Assistant, click on the menu icon (the three points at the top right) to open the menu and press 'Account', and then select the one you want to use.
Access to the configuration: Innate Google Assistant, click on the menu icon (the three points at the top right) to open the menu and click on Settings. Next, you will see a list that includes settings for Home Control, News, My Day and Shopping List (These options may change a bit depending on the country).
To configure your preferred news sources: go to Settings, click on News, and then click on Customize. Select all the news sources you want, and then click on the return arrow. Then you will see a list of selected news sources, which can be dragged to reorder according to our priorities. To listen to the personalized news later, you simply have to say "Listen to the news".
To set up the summary of My Day: Go to the Settings menu and click on My Day. Select what you want to appear in your daily plan: Options include time, work, travel, upcoming meetings, reminders and news. When you want Google to tell you what is on the agenda of the day, you simply have to say "Tell me what I have planned for today".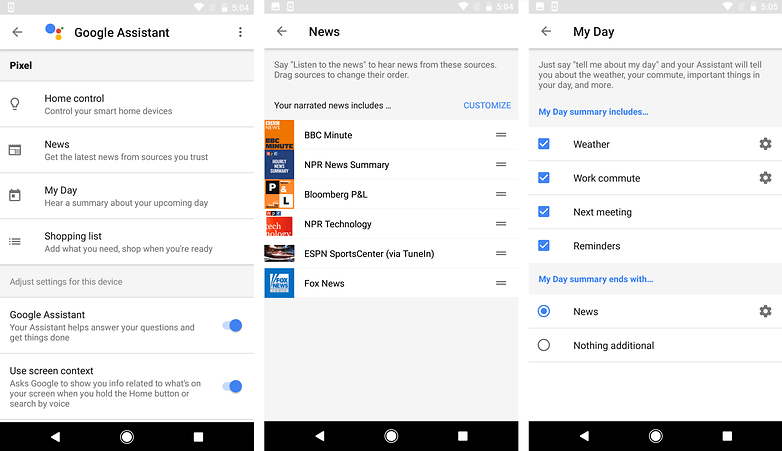 Tips for Google Assistant useful for daily life
The basics
Getting Google Assistant to do things for us is easy. Instead of memorizing a bunch of robotic commands, you can talk to him like in a conversation. It is very natural and you will seldom have to stop to ask yourself if you are formulating the sentence in the right way. Surely you have noticed that in the previous paragraph the phrases that have to be said for Google Assistant to read the news or make a summary of the agenda of the day are like those that would be told to any other human being. For example, if you want Google Assistant to open the YouTube application, just say "Open YouTube." It's as simple as that. These are some of the basic things you can do with Google Assistant to get started:
Tips for comfortable:
Ask Google Assistant a question to find an answer in hands-free mode
Ask him to sing a song by a particular artist
Ask him how long ago
Tricks to not screw up in the day to day:
Use Google Assistant to consult the agenda of the day
Ask him to set alarms, reminders and timers
Tips to be aware:
Google Assistant can make calls to contacts and discern between landline or mobile
Read and respond to messages
Read and respond to messages: This is a great novelty. If you send SMS text messages instead of messages from Messenger or WhatsApp, you will find this trick particularly useful. Tell Google Assistant "Show my messages" and you will see the unread texts. Ask him: "Do I have messages?" And it will show you the messages read and unread. When they appear, you just have to click on Reply to be directed to the SMS application to respond.
More advanced tips and tricks
Once you have got Google Assistant to do some of the most basic tasks, you can now put it to work for you 24 hours a day, 7 days a week. Here are some examples:
Get headlines and personalized sports results as soon as you get up
Ask Google to find a route to go to work in the morning
Find a nearby coffee shop for a business meeting
Obtain information on the status of a flight or other travel information in real time
Realize translations to or from your language at any time
What's on my screen?: This will be really useful. Touching this option provided by Assistant when we wake up, extracts the relevant information in the current screen of the smpartphone. For example, a card will appear showing details about the restaurant that a friend has just suggested to us through a text message.
Shopping lists: with built-in Google Keep you can easily add items to the shopping list. You can even add several items at once, just by saying: "OK Google, add juice, eggs and milk to my shopping list".
Download voice pack to use it offline. Launch Google Assistant and touch the three points on the right. Now select Settings> Phone> Other voice settings> Offline voice recognition> All. Here you will be able to download the voice pack you need
Control your smart home with Google Assistant
Google Assistant goes far beyond the smartphone and the digital life – it can also control the physical environment in a smart home. If you have a smart thermostat, you can tell it to adjust the temperature of the house to 22 degrees. If you have smart lights, you can check if they are on, turn them off remotely or turn them on in certain rooms of the house. As more intelligent technology is in your home, more you will trust Google Assistant to centralize control.
Have fun with Google Assistant
If you let Google Assistant know that you are bored there are a lot of things that will suggest to entertain you. Simply ask for "things to do" and it will give you a list of fun activities to choose from. You can recite a poem, play funny videos, or show something randomly. The best are games, such as trivia or riddles.
Have you already tried Google Assistant? What are the functions that you like the most?