We tend to think that pornography is an exclusive pastime of men, but we are very wrong. More and more women are interested in this type of entertainment and there are statistics to corroborate it.
These are the main conclusions of the study:
Women like lesbian porn
The terms most sought after by women on PornHub are "lesbian", "threesome" and "squirt", and many of those that follow are related to sex between women. Why does this happen? Unfortunately for sociology (not for privacy) Pornhub's data technicians are unaware of the sexual orientation of their visitors, so we do not know what percentage of visitors are lesbians.
However, as many studies have shown, there are many women with bisexual tendencies or, at least, some curiosity about experimentation. A 2001 study, published in The Journal of Sex Research, claimed that 60% of heterosexual women admit to being attracted to other women, 45% had kissed another woman at some time in their lives and half had sexual fantasies with their same sex
The most searched terms by women on PornHub.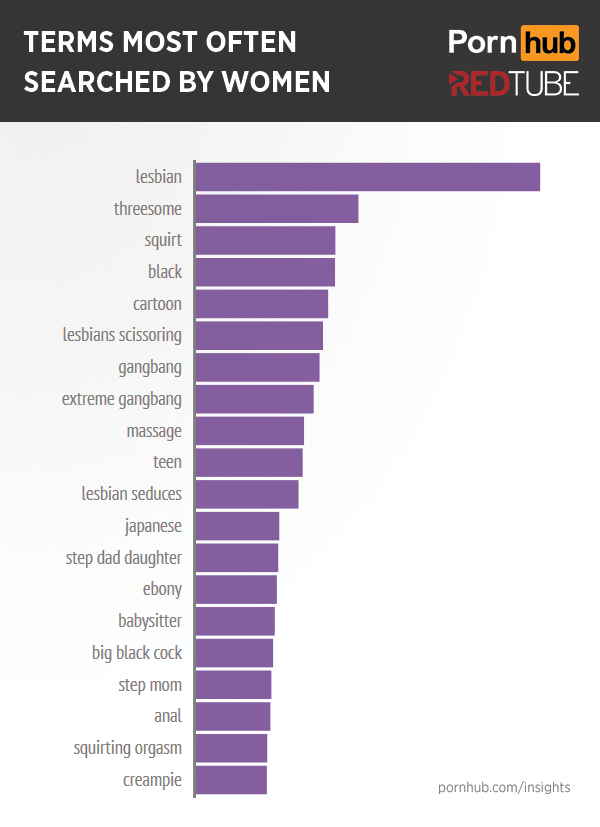 Women love Kim Kardashian
PornHub analysts have analyzed the search terms that have grown the most in the past year. "Real celebrity sex tape" ("real home porn video of a famous") is the search that has increased the most among women, by 1028%, something that the authors of the report attribute to Kim Kardashian, whose sextape is, perhaps, the most seen in the history of pornography: only on PornHub has received 93 million views. Although the film is already a few years old, its demand grew enormously after the famous socialite starred in the cover of Paper Magazine, which revolutionized the internet.
The friend of Paris Hilton is the porn star most wanted by other women, followed by Farrah Abraham and Lisa Ann. The first man, James Deen, appears in the fourth position and you have to go down to number nine to find the next one: Mandingo.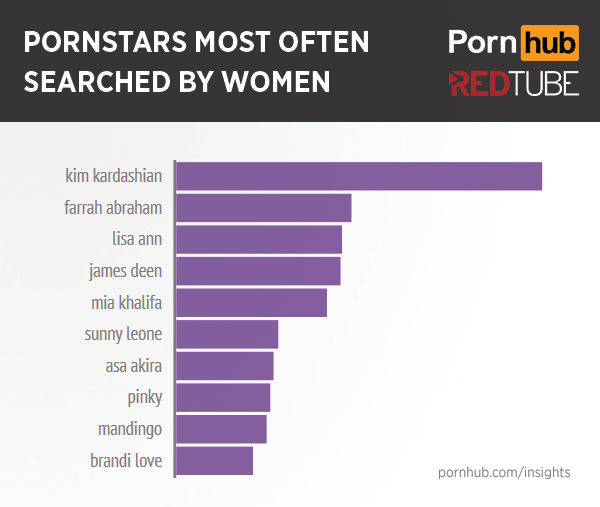 Women love cunnilingus
As is logical, women love to receive oral sex, but also see it. During the past year, all terms related to cunnilingus such as "man eating pussy", "guy eating girl out" and "hardcore pussy eating", have led a spectacular growth: 589%, 353% and 228% respectively.
It is also the terms that top the list of searches that women perform more than men. Phrases such as "guy licking pussy" or "man eating pussy" are searched more than 900% more by women than by men.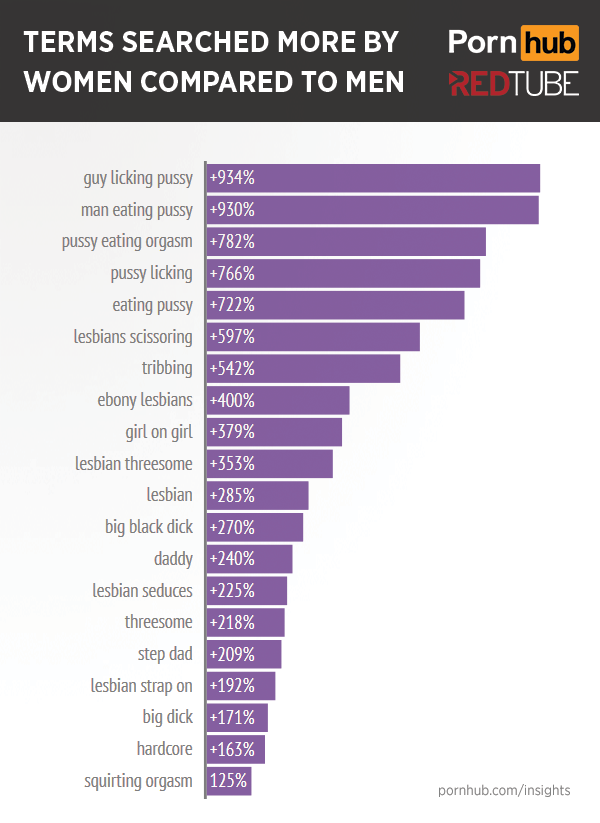 Spanish women like porn more than average
24% of the total of PornHub visitors are women but the percentages change a lot between countries. The Philippines, Brazil and India are the countries with the highest percentage of female audience: 35%, 35% and 30% respectively.
Our country is in the eleventh position. The percentage of women, 26%, is above average, but as the authors of the report point out, it is the only country next to Russia in which female visits have fallen by one percentage point.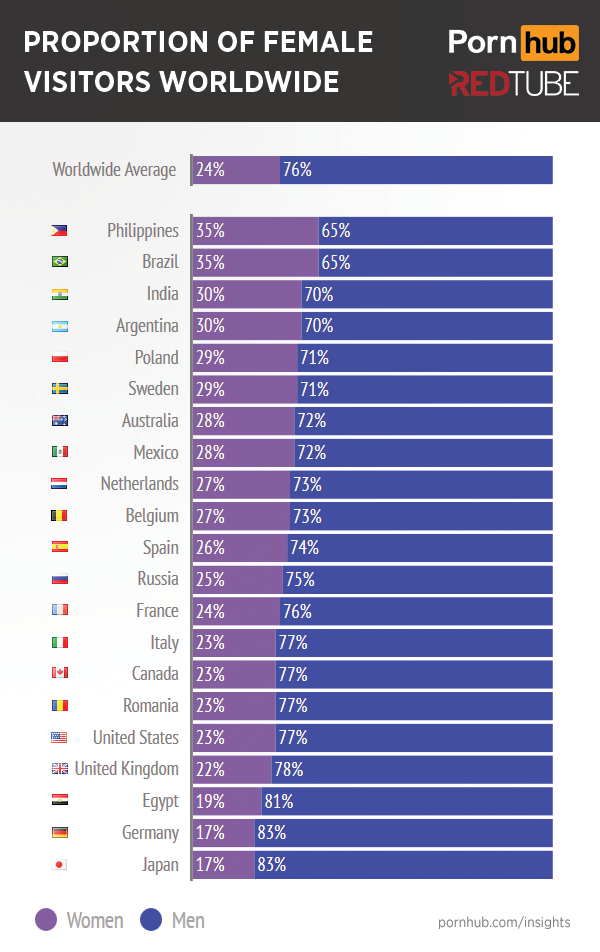 Women spend more time watching porn than men
How we explain in the report that PornHub elaborated for El Confidencial, the consumption of pornography seems to have an exclusively onanistic character. In Spain, the average time of visit to PornHub is 8 minutes, a figure that is around the average for Europe. Practically nobody sees the whole videos, whose duration is almost always more than 8 minutes. People visit these pages for what they visit, and when they finish what they were doing, they close them.
But the duration of visits varies significantly between men and women, perhaps because they take longer to complete their mission. On average, women make 10-minute visits to the page, compared to 9 minutes that men use. In Spain, the difference in any case is minimal: 8:24 minutes versus 8:06.

6. Young women like pornography more
The proportion of women who consume pornography varies greatly between age groups. Among young people between the ages of 18 and 24 who visit the portal, 36% are women, a percentage that decreases enormously with age. Among the public of 45 to 54 years only 8% are women. The average age of the visitors of PornHub is lower in women: 34 years compared to 36.