Chromecast already has a new version much faster than the previous one. This gadget has become essential in the living room. For only € 39 we can reproduce all the audiovisual content, and something else, that we want for our television (Chormecast) or sound equipment (Chromecast Audio).
Chromecast in compatible not only with Android but also with Windows, Mac and iPhone or iPad. You have no excuse to enjoy your favorite series on a large screen. The list is not hierarchical, and each application has its strengths and weaknesses, but of course they deserve to be tested. From your Android, the first thing you need is the Google Cast app to start enjoying.
Best Chromecast apps for movies and television
Netflix
Netflix has only recently been available in Spain and according to its own CEO, the catalog may not be the best one at the moment, but undoubtedly this service of movies and series in streaming has a lot of potential. The basic price of € 7.99 does not support HD quality, so to take advantage of the Chromecast we must hire the fee of € 9.99 and we can also enjoy Netflix in two terminals. Do not be afraid to install the application since you can try Netflix for a free month.
Atresplayer
Atresmedia collects the broadcast of a large number of Spanish channels and radios. With your application you can enjoy your content live anywhere and how not to launch it to your TV or screen thanks to Chromecast. With a premium account you will also be able to enjoy the previews and its library.
RTVE.es
This is the Radio Televisión Española application with which we will be able to mirror all of your media library directly on the screen of our TV or screen through Chromecast. Unfortunately the direct ones can not be removed through Chromecast due to the incompatibility of the signal, but it seems that there is an intention to solve this problem although we do not know when.
In any case, the audiovisual material available is overwhelming. Not only do we have the programming of its 4 television channels, but we can also enjoy all the Radio Nacional podcasts. As a good lover of the radio, my favorites are undoubtedly RNE Documents and The Basement of RNE3.
Plex
Plex is a great multimedia center capable of managing all multimedia content of the family in a simple way. All videos, movies, photos or any other content you can have it available from any device and share it with family and friends. You are very limited to enjoy it for free, you also need to create an account in the service and install the server on a computer or NAS.
BubbleUPnP
Like the rest, BubbleUpnP allows us to launch multimedia content from our Android to television. The strong point is that we will also find access to other content that we have stored elsewhere, from the computer to the cloud, through DLNA servers. It also works with Xbox 360 and PS3. It is one of the strongest applications in this field.
Redbull TV
With the Redbull channel on your mobile device you will be able to enjoy a bunch of free and exclusive content from all those unorthodox sports. It has live broadcast and a huge gallery of videos, do not miss an episode of Who is JOB . The best thing is that you will be able to enjoy all this content from the sofa in the living room and on the big screen thanks to Chromecast.
ESPN
ESPN will be especially enjoyed by our friends in Latin America, as this channel, unfortunately, is not available in Spain. If you want all the sports information, summaries, results and interviews, this is your application. You can, if you wish, watch live matches, although for this you must pay a subscription.
AllCast
Surely it is the first one that you encounter if you have written in Google "application for Chromecast". It is the best known and with it we can launch content through the cloud. In addition, it also allows us to launch photos, music and videos directly from our smartphone to TV. This application supports a large number of formats such as Roku, Apple TV and the Xbox 360 / One. There is a free version that you can try from Google Play Store. The Premium version costs € 3.65.
Best Chromecast apps for music
Spotify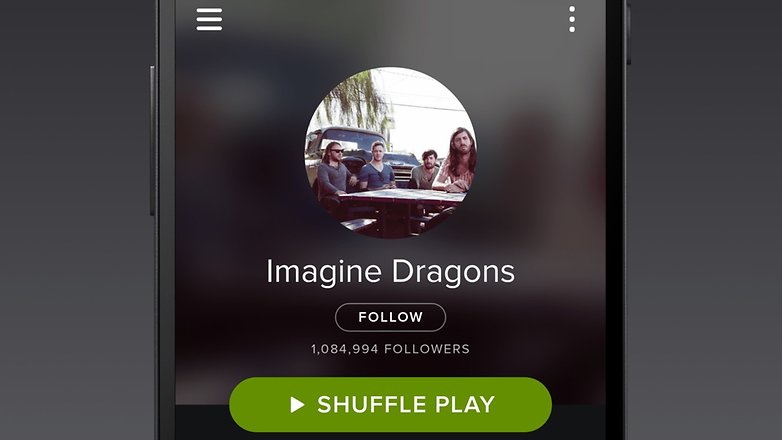 Now we have a Chromecast dedicated especially to music lovers and to listen to music there is nothing better than the biggest online catalog of music themes, Spotify. With the Android application you can listen to all the music you want for free and take it out for any of the Chromecast you have at home.
Deezer Music
This in an application that you can use especially with Chromecast Music to get the audio from your smartphone by the hi-fi equipment. With Deezer you can listen to free music, if you have read correctly, for free. It has personalized recommendations and has infinite mixtures.
Napster
Napster returns Maybe the first song you downloaded in your life was back in the year 2000 with a computer program of the same name. After his persecution we see a new resurgence of what was the largest network to share MP3 files. Available for a long time for Android is also compatible with Chromecast Audio.
Best Chromecast apps for kids
EduKids
EduKids is a series of multiplayer educational games designed for the little ones to have fun on television. It can work with just one or with several smartphones connected at the same time. It is designed to improve the creativity and learning of the smallest of the house, always with an adult.
DoodleCast
It is an application with which you can draw and see what you do on TV. DoodleCast is, in essence, like playing Pictionary, but saving yourself from having to use paper and pen. Two smartphones are needed, one in which you draw, and another in which you write the solution to the drawing. If you want to have a good time with the family and be able to laugh, download this application.
Best games for Chromecast
Just Dance Now
This is the best game you can find for all your parties and meetings, what could you expect from a game developed by Ubisoft. You can play with a Chromecast, AndroidTV or from a computer. It has a good free catalog to move your hips and the best thing is that you can play in a group. Everyone has to have the application installed and have the smartphone in hand before the music starts playing.
For the Just Dance game of Xbox, Wii and PS4 there is also an application available to use your smatphone as a command.
Alien Invaders
Alien Invaders is a clone of mythical Space Invaders. From the top of your television an Aliens army will try to conquer the Earth. Between defeat or survival, only you are left. You need a Chromecast to run the game and a smartphone to control your spaceship.
Big Web Quiz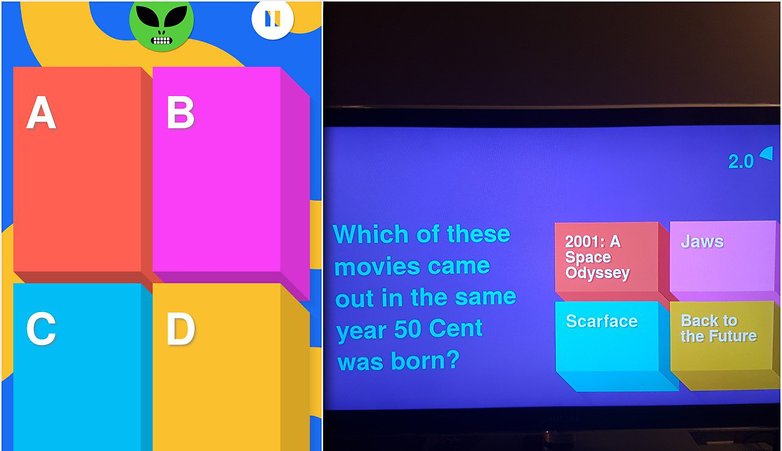 Direct from Google's creative lab comes Big Web Quiz. It is only in English, but this will not discourage us. They can play up to 5 people or groups. The faster you answer the more points you will receive and you will win the best of ten questions.
Down Fish
Do you like Flappy Bird? Are you able to do more than two points? Then you have to try Up Down Fish, but with friends. It is a multiplayer version of the famous game. You can compete with whoever you want thanks to television. The scores will appear on the right side of the TV screen to add more pressure to the competition.
GamingCast
It costs just one euro and with it we will have access to classic games on our 50-inch TV. Tetris, Snake, Pong and, even, an impersonator of Flappy Bird. The only drawback is that the selection of games is very limited, so we hope that in the future they will add more games to their catalog.
Slide Puzzle Game Chromecast
It is a sliding puzzle with grids from 2×2 to 9×9 that can abduct your little ones for hours. Scroll the pieces as necessary to obtain an image. Simple, but beautiful.
Do you use Chromecast at home? What applications do you think are essential?