The third beta of Android P is here and one of its novelties is something that the community has been asking for for years: to be able to change the dark theme. There have been rivers of ink on the subject and the subject is not yet completely settled, but at least it is now possible to choose between a clear or dark theme from the settings.
Google does not decide to add a dark theme to Android, but with the Pixel 2 was included the possibility of switching to a dark theme automatically when the wallpaper was dark. This step is not necessary with Android 9.0, because you can choose if you want the subject light or dark, regardless of the wallpaper.
How to turn on dark mode in android P 9.0
To change theme in android P 9.0, follow below given settings in your Pixel and non-Pixel devices.
Step 1: Swipe down notification panel and tap Settings gear icon
Step 2: Tap Display
Step 3: Tap Advanced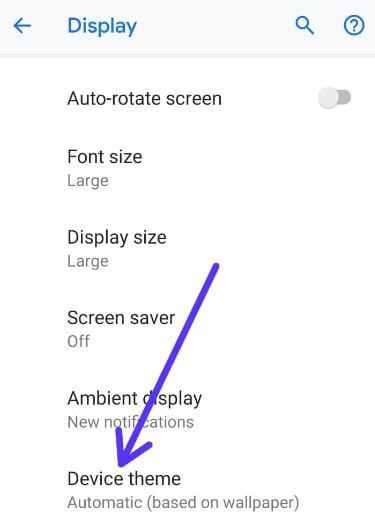 Step 4: Scroll down up to Device theme and tap on it
By default android P theme set as automatic (based on wallpaper)
Step 5: Choose dark for activate dark mode in android P 9.0
This android P dark theme is helpful extend battery life in your device. Also set light theme in android P 9.0 if you don't want to like dark theme. If you change wallpaper in android P 9.0 that will affect in your android P theme.
Clear or dark: you choose
The option itself is a little hidden, although it is likely that at some point it will be accessible from the quick settings. For now, you must do it the old-fashioned way, that is: go to Settings, screen section and then Advanced. There you will see the option Theme of the device.
You have three options available. Automatic is the previous behavior and the default option: it switches to dark mode only when the wallpaper is dark. Claro uses the theme where the whites predominate and Dark forces the use of the dark theme. After changing it, the darkness of the night will hover over your mobile… if it has a dark theme.
Android 9.0 introduces for now the possibility to choose between light or dark mode at your whim, but does not include a dark theme. This is present in Pixel phones, where this change effectively makes the phone change to the dark theme, but if your phone does not have a dark theme, however much you change this option, there will be no difference. It's confusing, I know, but considering that we've been playing cat and mouse with the dark mode since Marshmallow, we'll have to be satisfied.