Surely you have used a regulated parking somewhere in Madrid, Marbella or Compostela and that is through the E-Park app for ORA and although it was announced that an additional percentage would be paid for the recharge, E-park keeps without commission the payment of the parking in Madrid from the mobile.
Some time ago it was reported that due to the integration of the electronic purse Kernel Pay in E-Park would begin to make the collection of a commission for parking regulated in Madrid from the mobile, however it was a measure that was not applied until now.
E-Park without commissions in Madrid to park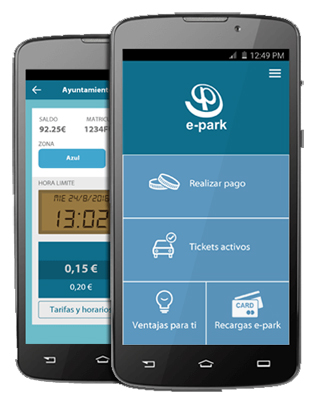 Regulated parking in Madrid and in most cities in Spain is paid through apps such as E-Park, but many of them charge more than 10 percent as a result of recharging the balance.
The E-Park app keeps being totally free and without additional surcharges, that is to say that you will not have to pay commission for the regulated parking, beyond the corresponding amount.
The fee to pay would be the same established by the municipality in case of using a regular parking meter. This decision on the payment of regulated parking was in discussion since September 2017, but it had been delayed by the City Council of Segovia.
One of the main advantages of E-Park is that they have developed an application compatible with the main operating systems, not only Android or iOS, it is also compatible with Windows Phone since there are still phones with this system on the market and it receives support as well than in BlackBerry OS terminals.
The truth is that there is good news for those who park at a regulated rate, and that is that E-park has no commission to pay parking in Madrid from the mobile.